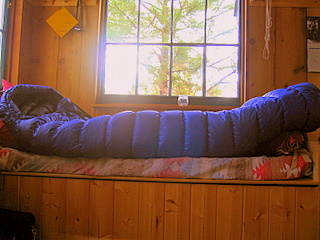 My sleeping bag is a Marmot Helium; it's a 15 degree, down bag. It's a warm, fluffy, and beautifully made bag with no cold spots. It is supposed to weigh 1lb 13 oz but mine weighs 2lbs. If you are 5′ 6″ or less there is a short version and if you are tall there is a tall version . This is a really nice bag made with 850 fill down. If I could only have one bag this would be the bag I would chose. I rarely zip it up; I just stick my feet in and throw the bag over me like a luxurious down comforter.
When not in use and not in my pack (which is rarely for me), I keep it stored in the large cotton bag it comes with. Compression is not good for a sleeping bag, so, I buy a bigger stuff sack then the one it comes with to use when backpacking.
I also have a Western Mountaineering Highlite bag that weighs 1lb. It also comes in a long. Good for travel in warm climates, but for me, it's not warm enough to take on a long distance hike. If I put the two bags together I have a winter weight bag for under 3lbs.
I use my clothes bag as a pillow when not at my cabin.

When traveling, I also bring a Jag bag silk liner. The extra wide weighs 4.75 ounces, is beautiful, and is the same size as a sarong so it can be used as every way a sarong can: skirt, dress, bag, etc. Many hot nights in Thailand it was the perfect weight to sleep in. It keeps your bag from getting all smelly an dirty. You can easily just rinse it out and it will dry very quickly. They also sell a mummy version that weighs 3oz and a standard rectangle one that weighs a little more then the mummy but less then the extra wide one; It could be used as a skirt but probably not as a dress.
For a pad when hiking I use a full length Z-Lite Sleeping Mat I carry a full length because it gives me a little island to lie on when the night is really wet. Most hikers just have a

3/4 length and put their pack under their feet. A pad is necessary for insulation from the cold ground. It doesn't matter how warm your sleeping bag is if you don't have a pad, the cold ground will suck all the warmth out of you. I keep it strapped to the outside of my pack and grab it and lay it down on breaks. It's particularly nice on rainy days because it gives me someplace dry to sit. It also can be ripped up for splinting material if needed. The cheap option is to buy a blue closed cell foam pad at a store like Wal-Mart, for 6 dollars. You can even score the blue pad and make it like the z-rest. Learn how at http://www.trailquest.net/TQaltgear.html#pad
Even though it packs flat, a full length pad doesn't make your luggage look like a nice tidy package and always pegs you as someone who is planning on sleeping without a bed; which is fine on the trail but for international travel it's better to have everything inside your pack. I have carried either the inflatable ultra light therm-a-rest ( the short one weighs 13 oz or 368 grams) or I had a small

cheap closed cell foam pad that fit inside of my backpack when traveling internationally. When traveling to warm counties it's not that important to have a pad for warmth but some people need one for comfort. The Ultra light inflatable Them-a-rest also can be converted in to a comfortable Trekker Chair for an extra 10 oz (283 grams).- For a long hike the chair kit would be pretty silly but depending on what you are doing it might be kind of nice. You lean back in it and it's like a rocking chair that sits on the ground.
The hot sack Western Mountaineering Hot Sack is a vapor barrier/ bivy/ pack liner/ emergency sleeping bag that I sometimes
carry. I bought this and have used it on really cold nights as a vapor barrier. It also doubles as a pack liner, though I still kept my sleeping bag in a plastic bag. The coating started to wear off after awhile but Western Mountaineering sent me another one. It weighs 4.5 ounces.