Since getting Internet, I've been getting crafty at the cabin.    I think I have enough food and art supplies to last me all winter.
I'm working on a project that needed a hot glue gun.   I found this recipe for  making hot glue with pine sap and charcoal.   I scraped some sap from some trees—I used pine and fir sap.   Then I fished a piece of cold charcoal from my wood stove, put it in a baggie and pounded it with a hammer.    I melted the sap on the wood stove, stirred in some ground charcoal, and I had hot glue.  It sets fast and it's black but seems to do the job.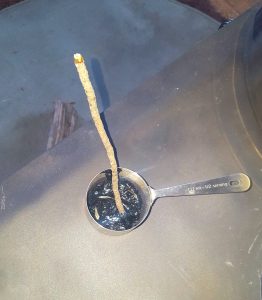 The recipe called for about 1 parts charcoal to 3 parts sap and I believe that's by volume, not weight, because charcoal doesn't weigh much.   Also, I've read recipes that called for hardwood charcoal but all I have is soft wood and it seemed to work fine.