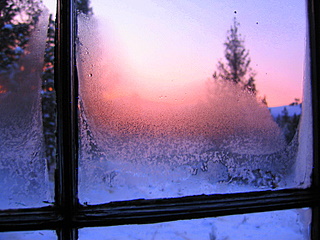 It got down to -12 F(-24) yesterday and a strange haze covered the entire sky and blocked out the sun. I had to bring the generator inside to let it warm up before I could start it. It was 11 degrees F this morning ; I think things will start warming up.
My wood stove is very small but so is my cabin; my cabin is 19′ X 11′(6 X 3.5 meters). Most of the time it heats the cabin fine but when it gets really cold it has some problems, mostly because in my small cabin are 11 large single pane windows. Last year

not knowing how cold it would get or how I would react to the cold I bought a portable propane heater and a 12ft hose, so I could hook it up to a 20lb propane canister. I never used it because it seemed kind of whimpy to not deal with the cold. This year I hooked it up and use it to help the wood stove heat up the cabin. It has been very nice to wake up in a cold cabin, turn on the propane heater and then start the fire. In a very short time my cabin is cozy again.
It looks like it will be a sunny day today but with the rising of the sun, the temperature is dropping.. How can that be? It's already down to 6 degrees. I'm always interested in the weather, now.