Before starting my PCT (Pacific Crest Trail) hike, I was given a Suunto compass/altimeter watch. I didn't feel like I needed one, but I brought it with me. It turned out to be one of my favorite pieces of gear. Combined with the data book, that would list all the altitudes, I found it easy to figure out where I was. I also had opportunities to use the compass. Periodically, I would set the declination on it. The declination of every section is listed in the guidebook. A watch is also helpful for using "dead reckoning" to figure out where you are, (example: I have been walking 2 hours; I usually walk at 2.5 miles an hour so I must be…)
The compass watches' batteries are only good for about a year, and I have had terrible luck in changing the batteries. I would recommend going to a jeweler to have it done. That said even still, my Suunto started leaking after about a year. My next one was a High Gear. It stopped working after about a year too; I changed the battery but it still didn't work.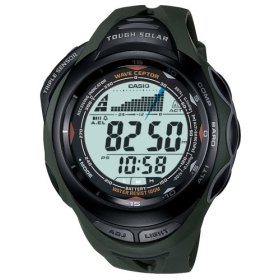 Yesterday, I ordered this Casio PAW1200 Pathfinder Atomic Solar Triple Sensor watch, which is a solar powered altimeter/compass watch. Because the battery will never need changing, I'm hoping this one will last. It also sets it's self by an atomic clock. Even if it doesn't see any light for 5 months it's supposed to keep working. My Casio data bank was always a good and dependable watch and I'm hoping this one will last as well.
You'll want to set the declination and altitude. To find out what the declination is for where you are or where you are going, visit: http://www.ngdc.noaa.gov/seg/geomag/jsp/struts/calcDeclination To find out what the altitude is for where you are, download Google Earth and type in your address. If I come to a place with a elevation sign and it doesn't jive with my watch I reset the altitude.
For international travel, I used to carry a Casio data bank; it would hold all my important numbers and phone numbers. The calculator was essential for figuring out what things cost in dollars. In addition, it listed the current time in cities around the world. I also liked that the light on it, was bright enough to light my way through a dorm of people sleeping, down some stairs, and into a bathroom that was built with large boulders protruding into it.
Update:  I called Casio and asked how to set the declination on it and the woman said, "the what?" and then read the manual that I had just read 3 times that didn't say anything about how to check the declination. She said that she thought that you couldn't do it, I said that that is crazy to sell a compass watch at that price and not even be able to set the declination. Then she said that the watch specialist would call me back but so far, no call.