Before I would buy my fiberglass Necky Looksha, I wanted to see if I would be able to put it on and take it off my roof rack by myself. I could, but just barely. After a day of paddling, however, I found it really hard, so I devised this method that makes loading and unloading easy for the lone paddler.
1. Put a bath mat on back of your vehicle where your kayak will touch it: so that it won't scratch your car ( the rubber on the back is so it won't slide of your roof.)
2. Put a V-shaped kayak foam block on each of your roof rack rails.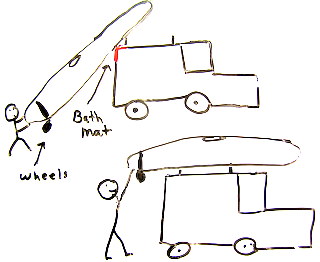 3. Attach wheeled kayak cart to the back of your kayak.
4. Lift front of kayak up on roof.
5. Go to back of kayak, lift up letting the front of the kayak rest in the V of the foam block, and push on.
6. Leave the wheels attached so they are ready for you to unload again.