Yesterday I took the first shower I have had in over 4 months. That's the longest I have ever gone without a proper bath. For some reason, I think this is a note worthy accomplishment but when I announced it to the woman that works at Subway she just looked a little embarrassed for me.
My cabin doesn't have running water–I carry my water from a spring about 1/4 of a mile away. It's really easy to live with out running water. I just put 4 one gallon jugs in my backpack, when I head out for my walk, and pick up some water on the return trip. (Now that I'm in trail training mode, I put the water in at the begining of my walk.)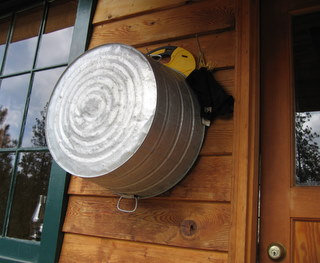 When I first moved here I would drive into town a couple times a week for a coin operated shower at the laundry mat. But now, I'm proficient at staying relatively clean with less then 1/2 a gallon a day of water. I bathe in a little enamel basin most days but some days, about once a week or once every two weeks, I scoop 4 gallons of hot water out of the big pot on my wood stove into an 11 gallon galvanized wash tub and have a sit down bath. After I bathe in the water I throw my clothes in it. After my clothes are done soaking, I ring them out and hang them out to dry. After that, I mop the floor with the same water, then I use the water to wash out my composting toilet.
For hand washing during the day I keep the enamel basin full of water and just keep using the same water over and over.  When I get so I don't want to reuse the water anymore, I dump it and start over.
Another note worthy accomplishment: I bought my cabin furnished. It came with a small bar of soap. Two years later I'm still using that same bar of soap. I wash mostly with baking soda, as I learned to do in this Mother Earth News article "Keep clean without running water"