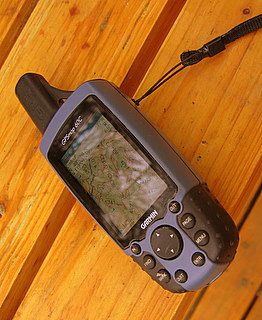 I bought the Garmin60c GPS to hike the CDT(Continental Divide Trail), after being told by a past thru-hiker that I would spend days lost if I didn't carry a mapping GPS. The difference between a mapping GPS and regular GPS is that you can load it full of topo maps and then see where you are on the map. I wouldn't have wanted to be out there without it.
It comes with a non deletable world map with all the major roads shown. Then you can add what maps you want, to it, from either a topo cd or you can go more urban and go with city maps. The topo maps show all water sources including wells. They show the mountains, contour lines, elevations, trails, roads and public institutions such as schools and fire houses. I have never had the city maps but I think they tell you about services in the cites like restaurants and stores. I don't know if you can put both topos and city maps together. The map CD's don't come with the GPS and are an additional expense.
I was able to put all the topo maps for the entire CDT, plus about a fifty mile radius around the trail in it and still had room to spare. Right now, I have the topos for the entire state of Washington and most of Oregon it it. You can easily add markers on the unit and then push the goto button and it will navigate you there, either on roads or as the crow flies, which ever you choose. You can zoom in and out for more or less detail.
Garmin claims a 30 hour battery life. I used lithium batteries and got much longer then that. It was so efficient that I often hiked with it on all day . There is a model that has a compass that doesn't have as long a battery life, but I think you can turn off the compass. This model has a compass but it doesn't work unless you are moving.
I haven't had any problems with it from getting it wet. I hike with it in the rain and strap it to the top of my kayak when I go out for a paddle.
It also tells you lots of other information like elevation, moving speed, timed stopped, etc.
I now have a little case for it. When I was on the CDT I didn't have a case so I just taped some clear packing tape on the screen to protect it from getting scratched, which worked great, is light, and cheap.
It comes with a little strap and a clip. On the clip, you push a button and the unit comes unclipped from the clip. I loop the GPS through my backpack strap with the strap and then clip it my backpack using the clip. That way if the one of them should fail the other will hold it on.
It weighs 6.75 ounces(192 grams) with lithium batteries, 8.05 ounces(228 grams) if you add the case and clip.
After a month of constant use, the zoom button quit working. I sent it back to Garmin and they replaced the unit.
As is the way of electronics, now Garmin makes one that gets better signal in trees and canyons and has removable storage: the Garmin 60cx. It also looks like Garmin started making my model in a gray scale version, the Garmin 60, that will do everything mine does except without color and is considerably less than what I paid.
I'm not bringing it on the PCT, but when I hike the CDT I'll definitely bring it. Since on the CDT the trail is often just not there.
One day on the CDT, on a hill, with the wind blowing about 35 miles an hour, I got out all my navigational aids: Jonathan Ley's maps, Jim Wolf's guide book, the National Forest Service map and my GPS with a past hiker's way points in it, and tried to figure out which way to go. I knew that I wasn't following the "official" CDT but until that moment, I didn't realize that Jonthin Ley's route, the guide book and my way points were all following different routes…and at that moment, I wasn't on any of them.
I saw on my GPS, a place ten miles away that was in my guidebook so I just pointed my GPS towards where I wanted to go and took off hiking. As I set out on my own route, walking over the grassy hills, I thought, "I am happier, now, than I have ever been in my whole life."