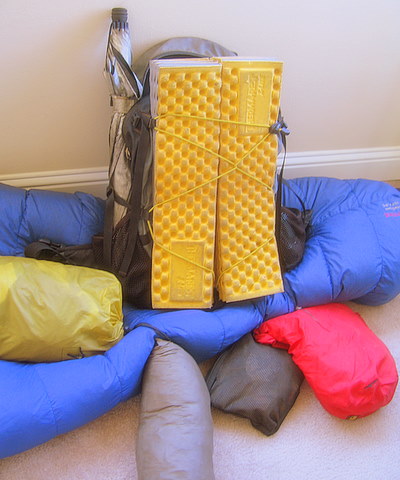 Mountainsmith Ghost backpack lined with white plastic garbage bag (Love this pack. It broke and I hiked with a Mountainsmith CDT while it was repaired.)
Marmot Helium 15 degree sleeping bag stuffed in to a clear plastic bag- This bag kept me toasty warm while camping under the stars on high windy crests. I was never cold yet sometimes I was too warm.)
Z-Rest full length closed cell pad (Great pad that I whipped out to lay on during my breaks and allowed me to cowboy camp with out a ground cloth.)
Six Moon Designs Lunar Solo with pole and tent stakes. 1 1/2 lb shelter with cooking porch and big enough for me and all my stuff)
Black Diamond Pearl headlamp (wouldn't go back to hiking without a 1 watt led again)
Silver Swing Liteflex EuroSchirm trekking umbrella (better and lighter hiking umbrella then the Golite Chrome Dome)
Nalagene 16 oz wide mouth bottle
1 1/2 liter disposable bottle (Duct tape wrapped around bottle) Extra cap with a hole in it to use as hiker bidet
Polycarbonate spoon
Nylon Food bag lined with an oder proof liner
Sil-nylon clothes bag (doubles as pillow)
Emergency space-blanket and fire starting kit (fuel tablets and a bic lighter) Never used this stuff
Whistle and Photon light on a clip.
Sunglasses with strap (Actually, I lost my sunglasses. I lost at least 5 pairs of sunglasses)
Reading glasses
small camp towel (Important for wiping the condensation off of the tent walls and for drying off after a shower)
Office (large plastic ziplock)
cell phone and charger (First time I have carried a cell phone. I liked having it)
pen and small notebook
maps and guide book sections
Casio Compass/Altimeter watch (most accurate altimeter watch I have ever owned)
Iriver 2g Mp3 player and fm radio with headphones (worked well)
Ditty bag stuff
Sunblock
Callus file
Chapstick tube
Tube of Carmex for my feet
brush head
toothbrush (child's size)
toothpaste
Dental floss with needle in side.
super glue (important for gluing the cracks in my feet together)
classic swiss army knife
Aqua Mira water treatment
Keeper menstrual cup
First aid kit
Bandaids
Neosporin plus Pain Relief
Benedryl
Claritin
Ibuprofen
asprin
Decongestants
Pepto Bismal tablets
Ace Bandage
Clothing
REI Ultralight raincoat and rain pants(switched to these after my Drop Stoppers disintegrated and before I headed in to wet and brushy Washington.)These were kind of heavy but I needed some rain gear and just bought what they had. When it was rainy and brushy I kept my hiking pants dry in my backpack and only wore my rain pants for days.
4 way fleece balaclava (Usually wore it to bed. Would not leave home without it.)
Neoprene socks (1 Pair) (Really nice to have while postholing over Muir Pass also when my feet were getting dried out)
Wool socks (1 pair)
Light socks (1 pair)
Bug head net (Never used it)
Garbage bag rain skirt ( More functional than rain pants, when it is warm.)
Fleece Glo-mitts (great)
Mountain Hardwear Hiking pants
Mountain Hardwear canyon shirt
Sunday Afternoon Adventure hat
Pantagonia Sport top
One pair of Synthetic underwear
Summer Buff (Wore it all the time)
Simms sun gloves (lost these somewhere but wished I hadn't)
Mont-Bell Therma-wrap jacket. (Not as warm as I had hoped, but really light)
New Balance 817 running shoes with New Balance pressure relief insoles. (SL-2 last: wide in the toe box but narrow in the heel. Come in really wide sizes)
Chaco Z-1 Sandals (I had to switch from Z-2's to Z-1's after 900 miles because of excessive thickening of the skin between my big toes) This is the first time I hiked with two pair of shoes; it was really nice to be able to switch shoes when my feet would get tired. I didn't get any blisters.

I also carried a Cassin Ghost ice ax and a BearVault 350 bear canister from Kennedy Meadows(mile 702.8) to Echo Lake(mile1094.5). I also carried my ice ax through the Goat Rock Wilderness in Washington.