I'm often hiking after dark and before daylight, so I value a good light. The ease of hiking in the cool darkness compared with the suffering of hiking in the oppressive heat, has only to be experienced to be appreciated.
With a LED light, a hiker can easily extend their hiking day without having to carry copious amounts of batteries. The lights I carried for my most recent PCT(Pacific Crest Trail) hike were, the Black Diamond Spot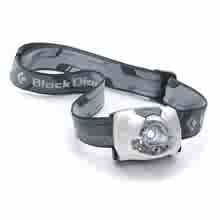 and a Photon Micro light II.
The addition of the 1 watt LED has been a huge improvement to my after dark life on the trail. Most times it doesn't take much light to see the trail but having the option of the extra light is most appreciated when I'm at a trail junction or the trail becomes hard to find. Having the option of the one watt LED has saved me from taking the wrong way or having to camp until daylight so I can find the way. I also appreciate it when I want to know if the big animal outside of my tent is a deer or a bear.
Carry your light low. A flashlight, lights the way best when held low, like in your hand. It shines across the trail and you can easily see foot prints and offers better contrast. I don't hike with trekking poles so my hands are free to carry it. One skinny hiker,I know, who did use poles, was able to get the head strap of his Petzl Tikka XP around his waist. My headlight comes off so you can clip it on to your belt. Petzl is now making the Tikka XP Adapt with this option.
I sometimes used lithium batteries. Though they are definitely lighter, I'm not sure they last any longer in a flashlight. What the difference seems to be is they stay bright and then lose power all at once. With regular batteries there is a gradual dimming, with lithium it is fast and you have to change the batteries right away.
Which is one of the reasons I carry a Photon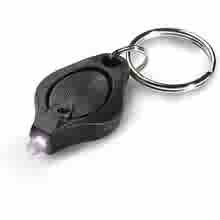 : so I have a light to change batteries with. It's also nice to know that if my headlight stops working I don't have to make camp in the dark. I kept it clipped to my backpack strap along with a whistle.
One cold and rainy night in the North Cascades, this year, another hiker and I were hiking into the night because there was no place big enough to put up our shelters. He had lost his flashlight so I loaned him my headlamp and I used my Photon. Finally, we found a place where the trail was just wide enough that we could pitch our shelters. He used the headlamp to set up his shelter and I held the photon between my teeth and set up mine. By the time I was done, my drool had soaked the photon and I couldn't get it to turn off until it dried out. I would rather have one that was more waterproof.
Improvements I would like to see on my headlamp. I would rather have two buttons on my headlight, one for the 3-LEDs and one for the super bright 1 watt led, and I would rather have the light more securely attached to the headband.
One of the reason I didn't buy a Petzl was the problems I have had with their customer service. I have owned three Petzls and have had problems with them all. The first time you contact Petzl they will replace your flashlight but after that they will say, "This is the second time we have had a complaint from this e-mail address. What are you using your headlamp for?" Then they will refuse to respond to you. I had to get my son and my sister to write to them to get my other headlamps fixed or replaced. The most problematic headlamp I have owned is the Petzl Tikka. It has a problem with the switch and flickering. When they sent me a new one, it did the same thing.
When I took an Outward Bound course, they recommended and sold Princeton Tec headlamps. A lot of us had problems with our headlamps. One of the instructors called Princeton Tec to get them fixed but Princton Tek refused to fix or replace any of them. Since then, I won't buy a Princton Tek headlamp.
I don't have any reason to suspect that Black Diamond will stand behind their 40 dollar flashlights any more then the other companies, but from now on, I buy my headlamps from REI so that I can return them to REI and they can deal with the manufacturer.
Related posts: Night Hiking