I thru-hiked the Appalachian Trail in 2003. It was a wet and cold year. I hiked exclusively in Chaco sandals. To keep my feet from getting too cold, I often wore neoprene socks. My neoprene socks were wearing out and all the seams were splitting. In one small town, I tried to replace them at an outfitter. He didn't have neoprene, but assured me that waterproof socks would work just as well.
I bought the waterproof socks and discarded my worn out neoprene in his trash. It wasn't long before a horrible odor started emanating from the waterproof socks. After a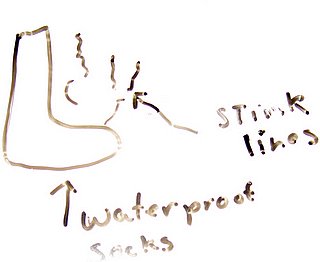 week or so, the smell was enormous and putrid.
I was meeting up at nights with another hiker. In the mornings, I would start hiking before her and by the end of the day; we would meet up and camp together. One afternoon she said to me, "I knew I was getting close to you; I have been smelling your socks for awhile now.
One night we were camped under a huge open covered area. I placed the socks as far as I could from us without throwing them out in the rain, probably 35 feet or so. Once we laid down, she turned to me and said, "Where are those socks? "Way over there, I pointed. "Well, I still smell them. she scowled.
When we got in town, we visited the Appalachian Trail Society. She felt bad because they didn't want to take our pictures for the thru-hiker wall and they shooed us out of the hiker box. I said, "Don't feel bad, I think it's the socks they don't like.
She was meeting her husband in town. After we did laundry, where I washed those stinking socks twice, they gave me a ride to my motel. In the car, he said, "What's that smell? With a voice and face that conveyed the message, "Do you see what I put up with?  she sighed, "It's Crow's socks
After a night in the motel, where I kept the socks encased in a plastic bag and still they stunk up the room, I decided I was going to send them back to the manufacturer and ask for a refund. I had to hitch a ride, though, and I had visions of the ride stopping and kicking me out because of the stink, so I threw them away.
To the manufacturer of waterproof socks: You owe me 40 bucks.