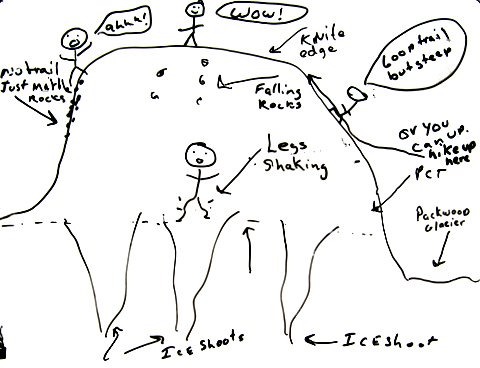 Up in Washington in the Goat Rocks Wilderness is where I think the scariest place on the PCT is; it's this huge steep slide area. When I first went across it in September of 2001, there wasn't much snow and it was late in the day so what snow there was, was soft. It looks like the whole mountain above you is just about ready to come falling down on you. I would look up and see rocks starting to fall. After I crossed it, I thought, "This is totally unsafe, there is no way this is the PCT. Somewhere I must of taken a wrong turn." So back across the huge slide area, back across Packwood Glacier, and back down the trail trying to find where I went wrong. After I figured out that the slide area was the PCT, I went back across it again.
The next time I crossed it, in August of 2006, I got there first thing in the morning and there were 3 solid ice shoots to cross on the big slide area. I walked across the first one fine, reminding myself of Jardine's wisdom, " You don't fall until your mind falls." But after taking a few steps, out into the second ice shoot, my legs started shaking. I thought, "This is bad." Carefully stepping backwards a few steps, I made it off the ice shoot; I crossed the one that I had just crossed and walked back to Packwood Glacier.
There is another trail that goes up and over the top of this area. It's about a 500-to-600 foot elevation gain but the trail is good going up. Once on top you are walking a 2 foot wide crest that is very dramatic. I thought, "This is the way to go. This is a much grander route." But coming back down it on the other side, the trail just disappeared and was nothing but these little round marbles of rocks to slid down on. After getting back down to the PCT, I felt like I needed a drink.
The next time I crossed it, in August of 2007, I knew to wait until the sun had soften the snow and since it was the section of trail my son had joined me on it was logistically easy to have him bring the ice ax and take it back with him when we were done. There was only one snow shoot to cross last year. I carried the ice ax and made good steps for my son to follow in. You should probably always kick steps as if someone you care about is following you.
This year has been a big year for snow in Southern Washington, I may carry my ice ax through here again. I will also make sure I'm not crossing it first thing in the morning.
The Goat Rock Wilderness in Washington in August is the most beautiful place on PCT. Often you walk on the crest and the crest is just three feet wide. There are wild flowers and green mountainsides. I saw at least 60 mountain goats last year through there. It will make you happy. If you can only hike one section of the PCT, that would be the one I would recommend. Don't go if it's raining.
Logistics: My son and I drove his car up to White Pass Cracker Barrel where they let us park it for the week for free. Then we drove back to Portland in another car and his girlfriend drove us to the trail head by Stabler's Store–about 35 trail miles north of Cascade Locks. Then we hiked together to White Pass.
When we got to White Pass, I said that I was done hiking and I wanted to go home to Portland with him. He said, "Fine. Why don't you go in the store and pick us up some Cokes for the road." I went in to get us some Cokes and he drove off. I kept hiking to Canada. Thanks, James.