I found a national forest that I can walk to from my cabin. So, now my training hikes are a 19.5 mile loop that includes lunch and a nap in the forest. I carry all my gear, a bunch of water and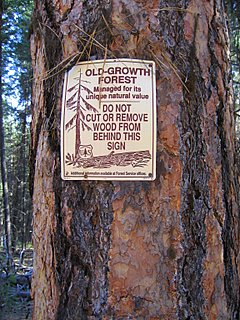 some random cans of food for added weight. I was carrying a big 55 lb load that included two packs, firewood, a bear canister filled with canned food, and some water jugs. But I like having my gear with me, because I can imagine just continuing on forever and carrying a 55lb pack isn't that much fun.
I believe the Pacific Crest Trail goes through this forest. Even though I see the Cascades looming in the distance every day on my walks, the trail seems like a long way away.
There are these signs up that say it is an old growth forest. It's not a very impressive forest, I have much bigger trees on my property, which I think might be their point–that if you don't thin, the trees stay small and crowded. I think it may be fire suppression that causes the crowded forest but maybe it's the way it's supposed to look.
One day, on my hike, I passed by a man's house. He said, "You look like a traveler. Can I offer you some water." I had to tell him I was only a pretend traveler, right now, and that thanks, but my load held lots of water. He looked confused. I'm excited to begin my travels for real and stop being a pretend traveler.