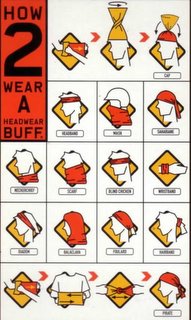 I have worn a Summer Buff constantly since March of 2007.    It's like a bandanna except it's a tube so it stays around your neck and you never lose it.    It stretches so you can easily pull it up over your nose and mouth when stinky dust producing horses go by.    You can also use it as a head band,  balaclava,  pirate hat, or filter the floaties out of your water.
I use it to blow my nose on; it's always there  around my neck.
It's a continuous tube made out of Cool Max fabric– no seams, no hems.  For some reason they charge twenty three dollars  for it; the profit margin must be staggering.
Here is a site selling 1 dollar tubular bandannas; they say they are like Buffs but I have never tried them.    Some of them are 19″ perimeter and some are 22″ perimeter.   For me I would prefer the 19″  for a snugger fit when wearing it as a headband.   The postage is high for one but  seems to be the same if you are ordering 1 or  a dozen.
If you want to make your own get some stretchy lightweight  fabric ( like an old t-shirt?) 19″ X 17.5″ and make a tube out of it.   17.5″ is the long measurement 19″ is the around measurement.
Related post: Summer Balaclava