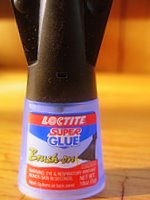 This is the kind of super glue I carry  to repair cracks in my feet—the kind in a bottle with a brush-on applicator.   It's the best vehicle for carrying and applying it—it doesn't break open and it's easy to apply.
I got mine at Walmart in the office supplies aisle.
Super glue is easy to find in the towns along the trail but the kind with the brush on applicator is not, so, I get a bottle before I leave.   Mine weighs .4 ounces full.
Here is a link to a physicians forum discussing using super glue to close wounds and cracks.
Related Post: Cracked feet