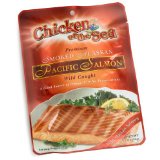 Walking through the grocery aisle I spied a new product, Chicken of the Sea smoked salmon, in little take along, no refrigeration pouches.
When I saw it I said, "Yes! I should get a bunch of this and I can be eating smoked salmon all winter long"    Good thing I had the good sense to buy just one and try it out first.
It's nothing like smoked salmon; bad flavor and a bad texture.  So bad.