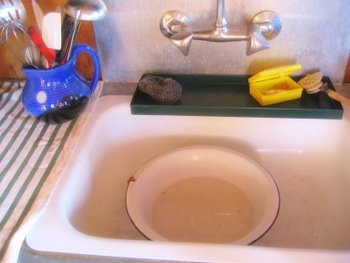 This is my wash basin.  It's  enamel and holds about about 2 liters.   I put  1 liter in it and wash my hands all day with the same water.    When it's bath time I add another liter of hot water and take a bath with it.   When I'm through bathing, I empty it into my gray water bucket and save the water for washing out my composting toilet buckets.  Then I  put another 1 liter in the basin and start all over.
In my Grandmother's primitive cabin, she used two basins: one for washing with soap and then another one for rinsing your hands.   After the soapy water  became too dirty it was thrown out and the rinse basin became the new wash basin. The new rinse water came from the old rinse water we used for rinsing the dishes.
I use an enamel one because it came with the cabin.    But in this mother earth news article the writer suggests using stainless steel because it won't chip.   Either way it's nice to have it made of metal so if it gets icy overnight you can heat it up.