When I rest or sleep on the trail, I try to keep my feet elevated.    I think it helps them to heal.
Some hikers miss having a chair but I  never do; even when there is a picnic table to sit at, I still lie on the ground with my feet on my pack, because having my feet hanging down below me doesn't feel like a rest.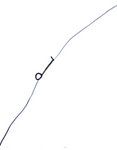 At night I  put my pack under my feet or even better— find a slopped place to sleep and point my feet up hill.