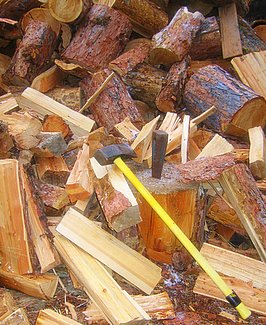 These are my wood chopping tools: a twisty wedge and a 8 lb splitting maul.    The splitting maul is made by Ludell and has a  fiberglass handle so if you miss the log and hit the handle it doesn't break.  I've whacked it many times.     You can split logs with one side and whack the wedge with the other.
The twisty wedge is made by Leborgne and will spit almost anything.   It  a good hard wedge that doesn't mushroom.   It's very hard to find.   The only ones online, I can find, ship from Europe.   I bought mine from a chainsaw store in Canada.    Here is a different brand shipped from the UK:   BAHCO SPLITTING WEDGE TWISTED STEEL 8 1/2IN Once I found a more cheaply made twisted wedge at Harbor Freight tools but it doesn't look they sell them anymore.
Most of my wood this year is Tamarack.  Tamarack is so easy to split an ax would work fine,  but alas,  I whacked the wooden handle of my ax, one to many times and now the handle is broken.