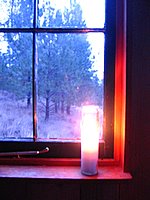 This candle is called a 7 day candle because it burns for 7 days continuously.  It comes in a glass jar so it doesn't drip wax.   They cost about 1.50 in the Mexican food aisle at the grocery store or in the candle aisle at Walmart.   Sometimes they have pictures of Jesus and other saints on them.
If I have a guest, I  keep one going all night so they have a night light.
Most nights I don't even light a candle.   I'm either reading on my laptop or reading a book with my LED headlamp.   Sometimes though,  it's nice to sit around at night drinking tea, looking at a candle.
Related post: A new era begins—The Age of Light