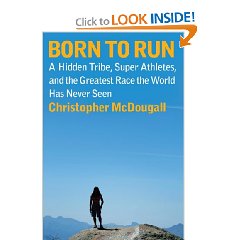 I just finished a book you'd love. It's called "Born to Run: A Hidden Tribe, Superathletes, and the Greatest Race the World Has Never Seen" It's by Christopher McDougall.
A good story and useful information—what more you could ask for. I couldn't put it down.
My days of shelling out 700 dollars a hike for footwear are over.
These guys do 100 mile runs wearing homemade sandals. Their energy drink is chia seeds dissolved in water with lime and sugar added. And their energy food is pinole(roasted corn flour with sugar added, I believe). I think pinole is going to be the next corn pasta on the PCT.