Problem: My door is blocking my view.
Solution: Buy a 450 dollar full view door, wrestle the 150lb thing home and attempt to install it.
OR
Chisel off the molding on the outside of door
Pop out the piece of plywood
Bring the piece of plywood to Home Depot, to the molding department, where they have a saw and miter box all set up and sell molding by the foot. Cut new molding to fit the piece of plywood.
Along with the molding, buy: some glazier points, water cleanup clear outdoor sealant, and some little finish nails or brads.
Bring piece of plywood to glass place and order a piece of tempered glass the same size as the piece of plywood. ( I asked for a little smaller, because the plywood was really tight.)
When you get your glass home, apply a bead of sealant around opening.
Press glass in opening
Install glazier points with a putty knife
Start the nails in the molding until the nail almost comes out the other side and then put on door and finish hammering.
Clean up the excess sealant on the glass.
Sit down and enjoy the view!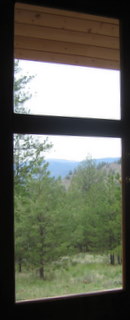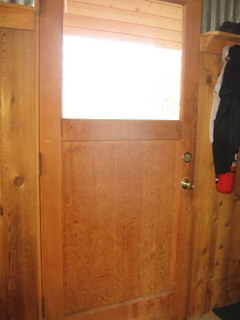 Difficulty level: Easy
Price: Under 50 dollars.
Web article that inspired me: How to put a window in a solid wood door