After spending a September in the Sierra's, I want to be in the mountains every September.     Only problem is my sleeping  bag is too cold to be in the mountains in September.   I've decided I need a warmer bag, only, the only way to do that and not increase my weight  is to go with a 0 or 5degree  backpacking quilt.    Only problem with that is they are crazy expensive.  For instance the Nunatak Arc Expedition would cost me over 750 dollars once I factored in shipping,  over fill, light weight fabric surcharge and sales tax and it's not like REI where you can just return it if you don't like it.    Also I'd have to wait 6-8 week to get my bag.    You'd think not having a hood or a zipper it would be fast and cheap.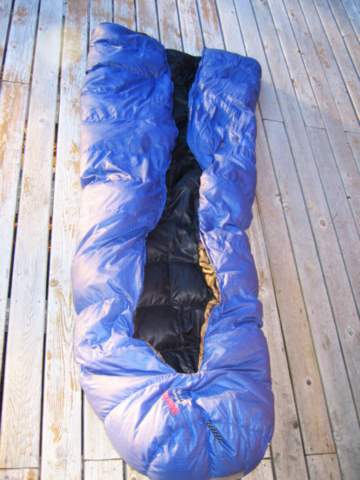 Then I had the epiphany to turn my old Marmot Helium into a backpacking quilt.    Searching the Internet I found another hiker who did this.   Purebound turned a 110 dollar– 2Lb 4oz mummy bag into a 400 dollar– 24oz sleep quilt.
I cut off the zipper baffle, the 3/4 zipper, the hood and the first baffle and used the down from them to stuff into the rest of the bag.   Then I slit the opening all the way down leaving a little foot box to stick my feet in and sewed everything back up.     It went from 34 ounces to 28 ounces and I kept all the down.
I like it  but every time I look at it there is another rip in it.  It has about 20 patches and repairs done to it and I ripped a baffle one night when I slept close to a sharp rock.    Also I think it could still use some more down.
So now I'm eyeing my new Marmot Helium and thinking about doing the same thing to it.  Only this time I'm thinking of slicing open up my old Marmot Helium and stuffing a lot more down into the new one.   One thing I learned doing this is there is a whole lot of down in a sleeping bag and it hardly weighs anything.  So if I, say, added 3 or 4 more ounces of down to the new bag and cut away all the stuff I didn't need, I think I could have a seriously big fluffy quilt for  2 lbs.
If you want a down hood you can save the hood piece and wear it on your head.   I decided that I would rather have the down from the hood on my body because I already carry a fleece balaclava and there is still enough length to throw the bag over my head if it's really cold.
I may put some straps on it to cinch the bag around me, but right now I'm  thinking that won't  be necessary as I left the bag fairly wide.
Some people may say that I'm taking 750.00 dollars in mummy bags and trying to turn them into a 750.00 dollar quilt. 🙂