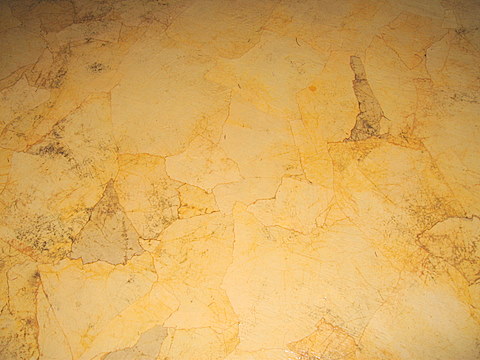 My cabin in BC has a plywood floor. I worried about putting wood flooring down because of the humidity of coastal BC, but hated the plywood. A friend told me about an art gallery that put down a paper bag floor. She couldn't remember how they did it, so I just experimented with it.
I bought rolls of brown paper–two different thicknesses. Then I ripped a jagged piece off the roll, crumbled it up, dipped it in yellow deck stain, brushed the floor with clear water based polyurethane, smoothed the piece of paper down over the polyurethane, and brushed over the top of it with more polyurethane.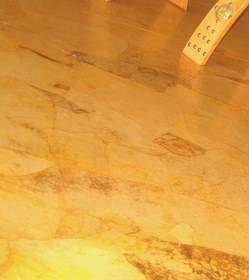 Then I went on to the next piece. Sometimes, I would dip the crumbled wad into the polyurethane for more dramatic lines. The different grades of paper gave even more variants.
I saved the straight pieces for around the edges.
After I was all done, I put several more coats of clear polyurethane over the top. It took me a whole week, working all day, to finish a 500 sq ft. floor, but time is what I have lots of.