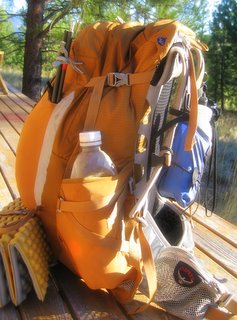 My new pack, the Osprey Atmos 35.  I have only hiked 480 miles with it but here is what I think of it to date:
The tag says it weighs 2lbs 9oz and that it holds 2100 ci.
It holds all my gear and food beautifully and makes a nice neat little package.   It will also carry my bear canister.
I like the big stretchy pocket on the front.  That is were I stuff my tent.  If it is wet it keeps it away from my other stuff and it makes it accessible without opening my pack.
I like the big hip belt pockets for carrying snacks, headlamp, cellphone, water treatment, etc.
It is a sturdy well made pack.   I'm not easy on gear and it is holding up well.
I like the way my pad straps on to it.  It's not hitting me in the butt or hitting me in neck.
It's white inside so it's easy to see your stuff.
One cool thing about this pack is it has these, "stow and go" trekking poles straps.  So you can stow or get to your trekking poles without removing your pack.   I don't carry a trekking pole because I like my hands free most of the time,  but with this feature, I'm considering starting to again because I could just bring it out when I need it and put it back when I don't without stopping.
You can put stuff in the mesh back but you have to  accesses it from inside the pack… I would have liked it better if you could access it from the outside.
The bottom, where the pack holds the frame is showing a little wear, I think they should have reinforced it with rubber or Kevlar.
I like it being a panel loader because it's easier to access my stuff,  but it could be better if they had made the zipper go further back and over the top and done away with the top zipping pocket.
I put a couple of  shoulder strap pockets on it that I got from simblissity.net One holds a 20 oz bottle of water and the other my GPS.   I would like to see this pack come with shoulder pockets or bungees.
Osprey gives it a life time warranty.  They say they don't care if you bought your pack in 1974, they will do a quality repair job for free.
So far, I really like this pack.