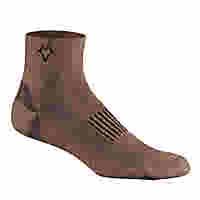 I've been getting e-mails from my buddy, Pinball, on the Continental Divide Trail.   He's sitting around on cold frosty mornings darning his socks.  He should have bought Fox River Off Road or Fox River Endeavor socks.
I bought a pair of each in early June of 2008 and they are still going strong.    Besides my neoprene socks, these are the only two pairs of socks I have worn in 16 months.  I have hiked over 3000 miles in them and a lot of those miles were wearing them with sandals.
For the average person, I would guess two pair  would last their entire life.