In 2007 , just before I entered wet and cold Washington, I replaced my ripped up  12.99 DriDucks with a 120.00 dollar rain coat from REI.     It blocked the wind better than my Dri Ducks and was more durable, but it also weighed more.
Then, this  year I was hiking in the rain and it didn't keep me one bit dry.
I brought it back to REI.    They asked me if I ever washed it.  "Nope, " I proudly said.  They said you have to wash raincoats or they quit keeping you dry.  Something about dirt and oil clogging the pores.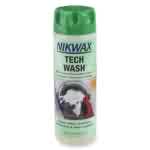 They told me to wash it in Nikwax Tech Wash and then use some Nikwax spray-on water repellent treatment on it.
I did it but I haven't tried it out since.
The Tech wash and the water repellent cost more then a new set of Dri-ducks.
I'm thinking of going back to  Dri  Ducks and garbage sacks.