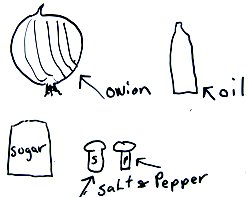 I used to make this soup all the time at my BC cabin.   Maybe it tasted good because there wasn't a lot of other stuff to eat but I loved it.   Once some kayakers floated by and I invited them in for a lunch of this soup.    What's great about it, is all you need is some onions, a little sugar, oil, salt and pepper.
Put  4 tbs. oil in pot.  Add 4 thinly sliced large onions and wilt over medium-low heat, covered for 20 minutes.
Sprinkle 1/4 cup of sugar over onions(I used brown sugar because it's what I had), toss, and cook, uncovered, until caramelized, 10 minutes.  Sprinkle with salt and pepper.
Add 3 cups of water and simmer, uncovered over medium heat for 15 minutes.    Then add 3 more cups of water and cook for another 40 minutes till it is rich in taste.
Sure it probably would be better if you had beef stock instead of water,  and butter instead of oil, and some port to add flavor.    And yeah some french bread and melted Gruyere, baked on top would probably be nice.   But I never have any of that stuff so this is the way I make it.