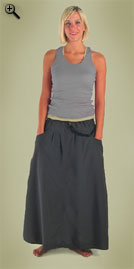 I bought my Macabi hiking skirt in 2004. I tried hiking in it on the CDT but my legs would get burned when I laid down for a nap and I got some chaffing between my legs.
I see many thru-hikers wearing them though, men and women, and they love it.
I wear mine all winter long with long underwear underneath. It feels warmer to me than pants. I also think there is something about wearing a skirt that is good for flow.
There are snaps to shorten the skirt. There is also a clip to make the skirt into pants or shorts. The shorts thing doesn't really work because it's still really easy to expose yourself…. maybe I was doing it wrong.
If it rains, you can shorten the skirt with the snaps and wear a trash bag skirt over it or put on rain pants and pack the skirt away till it stops raining.
One thing you need to be mindful of when wearing this skirt—don't stand next to any heat source or it starts to melt and burn. I have little burns all over mine from standing near a campfire, a propane heater, and even just standing next to a wood stove.