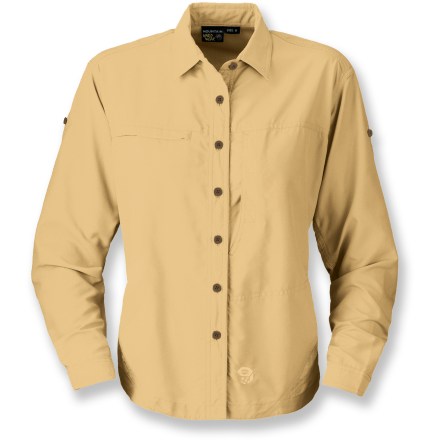 I discovered this shirt in 2003 in a gear shop in Connecticut while hiking the Appalachian Trail and have been wearing one ever since.
My current hiking shirt had over 6000 miles on it and was duct tapped together;  I needed a new shirt and this is what they had.
It looked good but I was thinking that it was built more for form than function.  I was wrong.   This is a good shirt.    It cleans well, wears well, stuff doesn't fall out of the pockets, and mosquitoes can't bite through it.   It has mesh side panels, flip up collar, rubber buttons, a big Neapolitan  pocket for maps, and zippered vertical pocket for reading glasses or what ever.
Comes in men's or women's style. The woman's sizes run big.
It's a 65 dollar shirt on sale at REI outlet right now for 32.93 dollars + you get 20% off  their discounted stuff which brings the price down to 26.33.   That's a really good price for such a fine shirt.