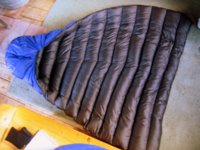 I did it.  I sliced into my new Marmot Helium and turned it in to something worthy of being in the mountains in September.  It weighs 31 oz, is chocked full of down, has not one cold spot, and is luxuriously wide.
First the bag weighed 35 oz.    Then I cut off the hood, the first baffle, the full length zipper, and the zipper baffle.    Then it weighed 24oz.  Next I took all the down from what I had cut off and stuffed it in to the quilt.   Then I took down from my old Marmot Helium  and stuffed even more down into it.   Then it weighed 34 oz.   Then I sewed the seams up and  took it to the laundry and washed it.   Now it weighs 31 oz. *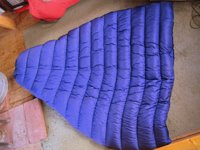 This isn't the ethereal kind of loft you get from having  just washed your bag, this is the solid kind of loft  you get when your baffles are full of down.    If you slept in a shelter with this bag you'd have to say, "Please excuse my loft."
For this project you will need: thread, pins, scissors, sewing machine, and a mummy bag.    Also a vacuum cleaner to clean up with.
To make the seams,  I just turned both edges inward, pinned them, and then sewed them up.
Difficulty rating: easy.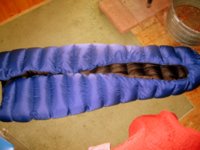 *I brought two bags to the laundry and they both came back  3 oz lighter.   Which seems like it might justify the weight of a silk liner.