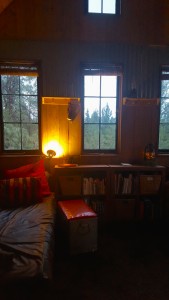 I haven't been connected to the grid now since 2002.  For the last 9 years, though, I have had a small solar system.
I liked laying on my couch watching the world get light in the morning and darkening at night and mostly I would just use a LED headlamp for when I needed light.    Some nights I would light candles and oil lamps but mostly not; they are pretty and pleasant but expensive and wax drips on stuff and oil lamps need to be filled and they don't really give off much light.
I wired a regular outlet to my solar charged batteries, plugged a lamp into it, and screwed in a 12 volt LED light bulb.   Even though I bought the warm light bulb it was still too cold to enjoy and only lit up half my cabin.
Well, a couple of months ago, I found some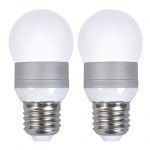 5 watt – 12 volt led light bulbs with a 2700 kelvin rating–very warm almost candle light warm.    I bought two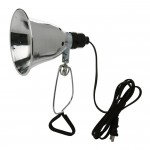 clip on work lights at Home Depot and put one on each side of my cabin.   I point them up for a warm ambient light and turn them down when I need task lighting—like for reading a book.
It's changed my life.  I can see from one end of my cabin to the other and move around without grabbing my headlamp.   The light is as pleasant as candle light, only brighter and doesn't drip wax everywhere.
I want to shout it from the hill tops, "Have you got light bulbs? These things are amazing!  Everyone should have two!"
When shopping for pleasant lighting for your cabin look for the 2700 kelvin rating.