It's snow season here in the Okanagon Highlands which means breaking out my Microspikes.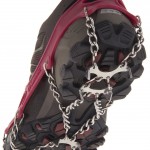 I don't know how people out here function without them as I find it hard to bring in an armful of firewood without them.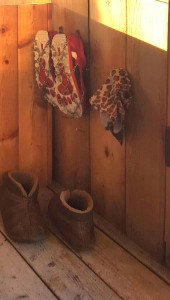 With Microspikes I can take walks with the same long sure-footed strides as when it's not slick out.    I've walked hundreds of miles in them and they have never once popped off my running shoes.
They're nice for the trail too, as running shoes can feel like ballet slippers when crossing a steep ice shoot.
I walked the Camino in Spain in the winter.  I brought my Microspikes, and though I only needed them for 3 or 4 days, I was happy to have them.
I walk quite a bit so I usually need to buy a new pair every year; they get dull.
Mine weighs 13 oz / 368 grams.   They may be lighter now.
If you wear them inside your cabin, you may want to put rugs down because your floor may end up looking like this:
Before Microspikes, I screwed sheet metal screws into the bottom of my running shoes.