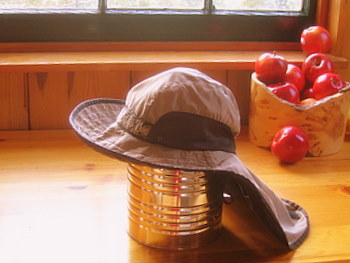 I feel a sun hat is essential. My sun hat is the Sunday Afternoons Adventure Hat . I have been wearing one, everyday, for 9 years. This is why I think it's the perfect sun hat:
1. Full sun protection. This hat offers full sun protection yet with the sun cape instead of a brim in back, I can leave my hat on and lean back in a bus or train seat without knocking it off. If you have a high pack, you may find that a hat with a full brim will get knocked off by your pack hitting it in the back, make sure your hat will work with your pack.
2. Chin strap. When the winds kick up if you don't have a chin strap your hat will blow off your head and off a cliff. I keep the chin strap hidden up in the hat until needed because I don't like the way a chin strap looks. If your hat doesn't have a chin strap you can secure it to you with two alligator clips with a string between them; I have seen them for sale at kayaking stores.
3. Packable. Needs to be able to be rolled up or stuffed in a pack. If it's not packable, it will be a mess before very long.
4. Washable. I probably washed my first one 50 times and would probably still be wearing it, had I not left it in a restaurant one day.
5. Adjustable — important so I can make it bigger when I want to wear my fleece balaclava under it.
6. Floats— important if you kayak or boat.
Versatile. I have worn this hat when I worked on a paving crew, hiking, kayaking, wood cutting, back country skiing, travel, and general living and it has worked well for me.
Remove the label. It comes with the manufactures label on the outside of it; remove it for a much better looking hat. The first Sunday Afternoon Adventure hat I bought came with the name tag sewed on; I removed it with a seam ripper. On the second hat, the tag was sewn into a seam of the hat; I cut the name tag off. Why, does someone go to the trouble of designing a great hat and then screw up the whole effect by putting their name on the outside of it?
Style tip: There is no need to wear this hat with the brim always turned down. When you don't need maximum sun protection, turn the brim up a bit, for a more dashing style.
Related post: How to keep your hat from blowing away.