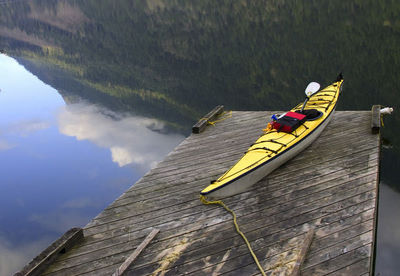 Even though when I bought my water access only cabin in coastal British Columbia, I had dreams of kayaking home after long trips up to Alaska and down to the Puget Sound, I had never even kayaked the 18-22 miles into town.
While up at my BC cabin, this time, a section of my stovepipe rusted out. It was getting colder and I was longing for adventure, so one morning I started out to town to buy a section of stovepipe. It was nine before I got my kayak loaded and ready to go and I knew that by noon or so the water can get really rough but my inner voice assured me that I should go.
I had the first 9 miles done in 2 hours and despite not having paddled a kayak in a year and the upper body weakness of a long distance hiker, I felt great. Then the wind and the chop started. In the next hour I had only gone 2 miles.
It was where two inlets come together and I would have an unprotected crossing ahead. My inner voice was egging me on but I began to suspect that my inner voice was trying to kill me, so, I paddled into a little cove with a beach. When I pulled my skirt off from the kayak, a wave came up and swamped my kayak. I turned the kayak back over and pumped it out. Then pulled it up on the rocky beach.
I could see by the seaweed and mussels attached to the rocks that this beach disappeared when the tide came in. I changed into some dry clothes, (Note: You might as well just wear rain pants when you kayak in coastal BC ) then pulled out my pad and stove, and reclining against the rocks made a hot beverage and thought about things. Up on the rocks, was a spot that might be big enough for my tent.
About then it started to rain so I decided to try to get my tent set up there. It required hauling up some rocks to secure my tent because I couldn't get my tent stakes in very far before they hit rock.
Then I took on the arduous task of hauling my kayak up the rocks. To the painful sound of gel coat scraping away, I pulled, pushed, and carried it precariously up the rocks. I tied it to a tree up there.
Then I crawled into my tent to wait out the rough water and rain. I knew I should only be grateful for this site but it slopped terribly into the sea. Of all the campsites I have ever had, I must say this one was as far from flat or comfortable as I have ever had.
I decided to wait until morning to paddle into town because I didn't know where I was going to sleep once I got there anyway.
The next morning, the rain had stopped and the water was calm. I paddled into town but now I was sore and it was much tougher.
I spent that night in town and paddled all the way back the following day. I didn't want to because I was sore, but lots of rain was in the forecast in the coming days, so I thought this was the best day to be going. My shoulders burned, my wrists were swollen and painful, and I was tired.
When I got back to my cabin, I replaced the stovepipe, made a fire, laid down on my couch and quickly fell asleep. I laid on that couch for the next 3 weeks and watched the rain fall.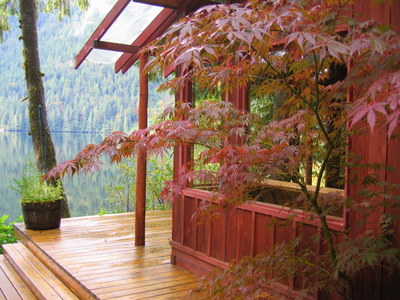 .