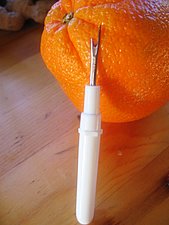 This is a seam ripper. You can use it to remove the company logos that have been sewn on to the outside of your clothes and gear.
There are enough ads in this world we don't need them on our clothes.
Company names and logos look  bad and render clothes useless for anything but for the activity they were intended.
I once owned a nylon shirt in vibrant blue with no logos on it. I wore it for everything. When I took my dying mother on a cruise, I wore it with some black slacks and fake pearls to formal night. Then I wore it on a 5-month Pacific Crest Trail thru-hike. I kept wearing it every day for the next year. Then I wore it for the Florida Trail. Next, I wore it for the Appalachian Trail. Somewhere in Connecticut, I replaced it.
That was a good shirt. It didn't have any logos so all I needed was one shirt that went from formal night on a cruise to hiking a long trail.
My grandchild is preparing to be born, so, I have been shopping for baby gear. The outdoor clothing manufactures are putting logos on baby clothes! I can't believe anyone could be so crass.
They aren't going to stop until people refuse to wear their company toting stuff.
Everything looks better without logos.
Related Posts: Yes, we have no logos
Removing the logo from your pot lid