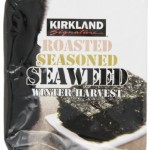 I discovered roasted seaweed at the little hiker store in the hostel in Lone Pine.  After doing the math, I calculated it had a whopping 165 calories per ounce (6 per gram)–pretty good for vegetables–although I assume, most of the calories come from the oil they are roasted in.

I eat them like chips, but the worker at the store said she crumbles them in anything she is cooking–contributes salt, oil, and veggies to any meal.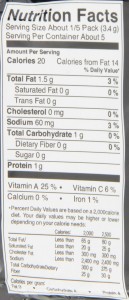 The packaging is quite bulky; I emptied them all into a baggie and threw away the packaging.
I think it may be cheapest to buy from Costco.