This has been my trail shelter for years.  I think it's the perfect set up– the ideal vagabond kit.  It's a mosquito net, it's a rain poncho, it's a tarp, it's a doubled wall tent.
The cape/tarp weighs 12 oz (340 grams) and the net-tent weighs 11 oz (311) and quickly sets up with 6 stakes and a trekking pole.
I believe the Gatewood Cape was named after Grandma Gatewood,  who walked the Appalachian Trail with a shower curtain that was her rain gear and her shelter.

  In Colorado, I would use it as a rain poncho in monsoons and then, when I got smart, would quickly set it up as a tarp, crawl inside and take a nap till the monsoon was over. 

I walked the Camino in Winter.  I was a little worried about crossing the Pyrenees in winter as some pilgrims get caught in snow storms and die.   I brought my tent stakes and my 4 ounce carbon Z- trekking pole and felt secure that if that happened, I could set up my Gatewood Cape and safely wait out the storm.    Although I never needed to set it up as a shelter, on the Camino, I wore it often as a rain poncho.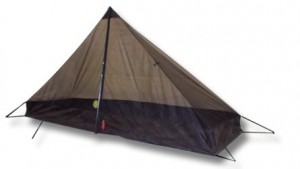 A mosquito net is the worlds best invention—why would anyone not carry one?  Whenever I watch survival shows where they can only bring a few items, no one ever brings a mosquito net, but that is the first item I would add.
If the bugs are bad but the weather is nice, I can sleep in comfort in just the net tent.   When I want to take a break from the mosquitoes or biting flies, I quickly set it up, crawl inside and restore my sanity while I eat my dinner or take a siesta in peace.
Sometimes, when it's  really cold, I sleep inside the collapsed net-tent like a bivy and it adds a surprising amount of warmth.
Although I've never tried this, you are supposed to be able to hang it in a shelter for a bug free sleep.
You can leave the net tent attached to the Cape and set it up as one– as quick as a tent—and its a complete double walled tent.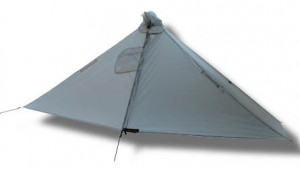 It blocks the wind nicely.   No where does the net tent touch the walls of the cape, so, no waking up wet from condensation.   There is a big vestibule for cooking and to store muddy shoes.      The door is high enough for you to get a little view, even when closed, as you lay in your bag.
The hood of the cape makes a top vent.   If it's raining and you want to make a protected top vent you can stick your hat on your pole, pull the hood over it and make a little protected air vent.   You can open and close the vent from your sleeping bag.
There is a big pocket that works as a pocket while using as a rain poncho,  an inside pocket when using as a shelter and the cape and net-tent can be stuffed inside the pocket for packing–although I usually just stuff it in my pack or in the outside pocket of my pack if its wet.
One disadvantage of  sil-nylon, is it relaxes once you set it up and can become quite slack in the rain, so, you have to leave your tent and tighten things up.   I solve this problem by setting up the cape with my trekking pole at an angle.  When I feel the tent slacken, I pull the pole towards me and everything is tight again.  There is also a tension adjuster inside the tent, on the new ones, that will further tighten things up if needed.
Tip for quick set up:  Tie one color of flagging tape on the back tie out and tie another color on each of the two front side tie outs.  This makes it easy to see  where everything is. First stake the back,  then stake the two front sides leaving a little slack.   Insert pole and stake out front.  Stake out the two remaining  pull-outs and go around and adjust everything so it is very taut.    There are two additional pull outs on the side walls, but I never use those and I can't see how they would improve anything.
If you plan to use it as a rain poncho, I recommend making a little shock-cord belt for it so it doesn't blow around so much.   There are snaps to snap up the excess when using as a rain poncho.  This isn't my only rain gear, I carry a Z-packs rain coat and a trash bag rain skirt as well.
Tent stakes:  I used to go with all super light thin titanium stakes but after I got a trail lesson in high winds and soft soil, I started carrying at least 3 better holding stakes like these hex stakes.   Last year on the Oregon Coast trail, I tried carrying a few MSR Groundhog stakes; they held well in the sand and wind.