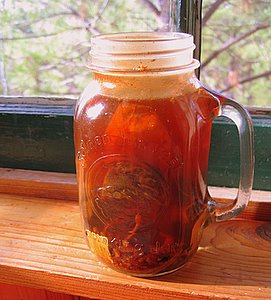 I've been off daily coffee for almost a year.   This is what I drink in the mornings now:
In saucepan put grated fresh ginger—the more the better, cinnamon, black pepper, and water.
Bring to a boil
Put 2 Good Earth Original  tea bags and 2 black tea bags into quart container.  Pour water over tea.   Don't take out tea bags; that way it gets stronger as you drink it.
Don't strain it,  chew on the ginger pieces while you drink.  I'm using about 2 pounds of fresh ginger a month these days.
Cheapest way, I have found, to get Good Earth Tea is from Amazon "subscribe and save" plan.  It works out to 3.00 for a box of 25, delivered.
WARNING:  May cause euphoria.